Skip Navigation
Website Accessibility
Patchwork Angels QS Update 16 March, 2018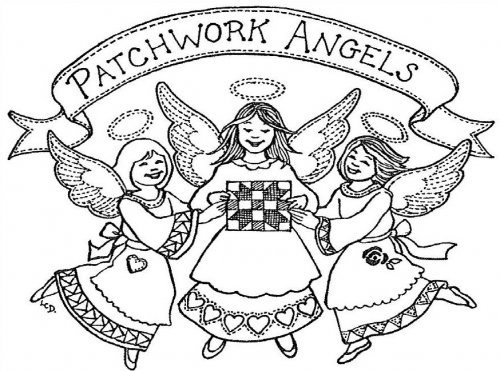 Happy National Quilting Day

and Happy St. Patrick's Day!

Both Celebrations occur on Saturday, March 17, 2018. Wear green and check out all the great fabrics, patterns, books, notions, etc., at Patchwork Angels Quilt Shop!!


Let's make it simple and give everyone 20% off and because some folks just can't make it in on Saturday, we'll let you shop both Friday and Saturday and take 20% off your total purchase (excluding class fees).


Coupons and guild discounts will not be applied with the 20% off. Only one discount will be applied.




Class
Updates
Special Note for the cold and snowy weather, please bring slippers or dry shoes when you come for classes. The salt and water is hard on the classroom floors! Your help is much appreciated. We have added to our boot trays to contain the boots and wet shoes.
Following is a current class listing for March and April! Read through it to see what is new and remind you of our regular classes.

For more details on classes, check the website at www.PatchworkAngels.com or call the shop at (607) 748-0682. Sign up in person or by phone at the
shop.
March
, 2018 CLASSES
Friday, March 16 at 3 pm through Sunday, March 18 at 3 pm: Quilt Camp with Candy & Rose

Monday, March 19, & 26 from 5:30 pm to 8:30 pm: Monday Evening Open Sew with Candy & Rose

Tuesday, March 20, & 27 from 11 am to 2 pm: Tuesday AM Open Sew with Carol Bunnell
Tuesday, March 20, & 27 from 2:30 pm to 5:30 pm: Tuesday PM Open Sew with Carol Bunnell
Tuesday, March 20 from 6 pm to 9 pm: Wool/Flannel Open Sew with Laurie Waddell

Wednesday, March 21, & 28: from 12:30 pm to 3:30 pm: Afternoon Quilting Basics with Candy Beardsley

Friday, March 23rd & Saturday, February 24th: Fourth Friday Frolic Sale

Friday, March 23, & 30 from 5:30 pm to 8:30 pm: Friday Evening Open Sew with Candy & Rose

Sunday, March 25 from Noon to 4 pm: Three Layer Cake Class with Candy Beardsley
Monday, March 26 from 11:30 am to 3:30 pm: Monday UFO Open Sew
Wednesday, March 28 from 5:30 pm to 8:30 pm: Evening Quilting Basics with Candy Beardsley
Friday, March 30 from 11 am to 4 pm: Friday Block of the Month (BOM) Open Sew
Saturday, March 31 from 10 am to 3 pm: Block of the Month (BOM) Open Sew Saturday, March 31 from 3 pm to 7 pm: Sew Much Fun with Candy Beardsley


APRIL 2018 CLASSES

Monday, April 2 from 11 am to 2 pm: Knitting Club with Carol Uhlman
Monday, April 2, 9, 16, 23, & 30 from 5:30 pm to 8:30 pm: Open Sew with Candy & Rose
Tuesday, April 3, 10, 17, & 24 from 11 am to 2 pm: AM Open Sew with Carol Bunnell
Tuesday, April 3, 10, 17, & 24 from 2:30 pm to 5:30 pm: PM Open Sew with Carol Bunnell
Wednesday, April 4, 11, 18, & 25 from 12:30 pm to 3:30 pm: Quilting Basics with Candy Beardsley
Wednesday, April 4 & 11 from 5:30 pm to 8:30 pm: Quilting Basics in the Evening with Candy Beardsley
Thursday, April 5 & 19 from 12:30 pm to 3:30 pm: Open Sew with Estie Mowry
Friday, April 6, 13, 20, & 27 from 5:30 pm to 8:30 pm: Open Sew with Candy & Rose
Saturday, April 7 from 10 am to 3 pm: UFO Open Sew
Saturday, April 7 from 5 pm to 10 pm: Quilt Sew Late with Carol Bunnell
Sunday, April 8 from Noon to 4 pm: Embroidery Club with Marie Valachovic
Friday, April 13 from 10 am to 1 pm: Hand Applique Club with Carolyn Stella
Tuesday, April 17 from 6 pm to 9 pm: Wool & Flannel Open Sew with Laurie Waddell
Friday, April 27 from 11 am to 4 pm: Block of the Month Open Sew
Saturday, April 28 from 10 am to 3 pm: Block of the Month Open Sew
Monday, April 30 from 11:30 am to 3:30 pm: UFO Open Sew


As always, we appreciate your consideration in refraining from wearing scented personal products when attending classes. We have several customers and staff members with sensitivity to scents and want to avoid any medical issues that could occur.
******************************************************************
Patchwork Angels Quilt Shop
307 West Main Street
Endicott, NY 13760

2018 Scheduled Shop hours:
Monday, Thursday, & Friday: 11 am to 8 pm
Tuesday & Wednesday: 11 am to 5 pm
Saturday: 9:30 am to 4 pm
Sunday: Closed except for Scheduled Classes

Phone: (607) 748-0682

Website: www.PatchworkAngels.com

Reminder: If the Union Endicott Schools are closed, we will be closed as well; HOWEVER, IF THE WEATHER CLEARS OR IT IS FOR COLD RATHER THAN SNOW, WE WILL GENERALLY BE OPEN IN THE AFTERNOON & EVENING. GIVE US A CALL BEFORE HEADING OVER TO MAKE SURE!
****************************************************************************
Hope to see you soon! Rose, Candy, Carol, Carolyn, Marie, & Mary