Skip Navigation
Website Accessibility
July 9 update from Patchwork Angels Quilt Shop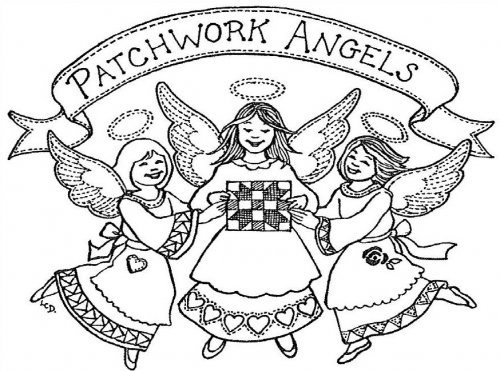 It is already July and I have missed sending out weekly updates for a few weeks. We have been busy at the shop and life just seems to get in the way. I sincerely hope everyone is having an outstanding summer and is finding time to enjoy the sunshine and nice weather when it isn't raining, but raining makes for good quilting weather!! so win, win!!!

Welcome to 2017 Row by Row Season! Row by Row started with the first day of summer, June 21! We are looking forward to seeing new and familiar faces that we only see during Row by Row season.

This is our row for this year: "Goat on the Go!" Kits are available in both a version with the borders and one without any borders. The pattern, of course, is included in both versions of the kits and is free if you don't wish to purchase a kit. We do request that you sign our visitor's log just so we get the fun of seeing where everyone is from! Happy Rowing!!




We haven't had a published sale in a couple of weeks, so here you go!

* We are way overstocked on books and patterns, so ALL books, patterns, and magazines are 20% off now through July 15!

* To make it more fun, if you choose to buy 2 books, patterns, magazines or any combo of these items, you get a 25% discount on your purchase of books, magazines, or patterns!

* To increase the fun, if you choose to buy 3 books, patterns, or magazines or any combo of these items, you get a 30% discount on your purchase of all books, patterns or magazines!

Happy Shopping!!!

Following is a current class listing for July and August!

As always, we appreciate your courtesy in refraining from the use of scented products when attending classes as we do have several folks among our staff and students who have a bad reaction to strong scents! We want everyone to be as comfortable as possible when they come to see us!

For more details on classes, check the website at www.PatchworkAngels.com or call the shop at (607) 748-0682. Sign up in person or by phone at the shop.



July, 2017 Class

Listing



Monday, July 10, 17, 24, & 31 from 5:30 to 8:30 pm: Monday Night Open Sew
Tuesday, July 11, 18, & 25 from 11 am to 2 pm: AM Open Sew with Carol Bunnell


Tuesday, July 11, 18, & 25 from 2:30 to 5:30 pm: PM Open Sew with Carol Bunnell


Wednesday, July 12, 19, & 26 from 12:30 to 3:30 pm: Quilting Basics
Thursday, July 13 & 27 from 11:30 am to 3:30 pm: Row by Row Open Sew with Mary Caro
Friday, July 14 from 10 am to 1 pm: Applique Club with Carolyn Stella
Tuesday, July 18 from 6 to 9 pm: Slouchy Sack Purse Class with Kathy Edwards
Thursday, July 20 from 12:30 to 3:30 pm: Open Sew with Estie Mowry
Friday, July 21 at 3 pm to Sunday, July 23 at 3 pm: Quilt Camp with Candy Beardsley
Wednesday, July 26 from 5:30 to 8:30 pm: Quilting Basics with Candy Beardsley
Saturday, July 29 from 10 am to 3 pm: Block of the Month Open Sew
Saturday, July 29 from 3 pm to 6 pm: Sew Much Fun with Candy
Sunday, July 30 from Noon to 4 pm: Wool Club
Monday, July 31 from 11:30 am to 3:30 pm: Monday UFO Open Sew



August, 2017 Class

Listing




Wednesday, August 2, 9, 16, 23 & 30 from 12:30 to 3:30 pm: Quilting Basics

with Candy Beardsley


Wednesday, August 2, 9, 23 & 30 from 5:30 to 8:30 pm: Quilting Basics

with Candy Beardsley


Thursday, August 3 & 17 from 12:30 to 3:30 pm: Open Sew with Estie Mowry




Friday, August 4, 18, & 25 from 5:30 to 8:30 pm: Monday Night Open Sew


Saturday, August 5 from 10 am to 2 pm: Dragonfly or Butterfly Wall Hanging with Shannon Putano
Monday, August 7 from 11 am to 2 pm: Knitting with Carol Uhlman
Monday, August 7, 14, 21, & 28 from 5:30 to 8:30 pm: Monday Night Open Sew
Tuesday, August 8, 15, 22, & 29 from 11 am to 2 pm: AM Open Sew with Carol Bunnell
Tuesday,

August 8, 15, 22, & 29

: PM Open Sew with Carol Bunnell
Private Retreat from 10 am Thursday, August 10 through 3 pm on Sunday
Tuesday, August 15 from 6 to 9 pm: Intro to Wool with Laurie Waddell
Saturday, August 19 from 10 am to 3:30 pm: UFO Open Sew
Saturday, August 19 from 5 to 10 pm: Quilt Sew Late with Carol Bunnell
Sunday, August 20 from Noon to 4 pm: Embroidery Club with Marie Valachovic
Thursday, August 24 & 31 from 11:30 am to 3:30 pm: Row by Row Open Sew with Mary Caro
Saturday, August 26 from 10 am to 3 pm: Block of the Month Open Sew
Saturday, August 26 from 3 pm to 6 pm: Sew Much Fun with Candy
Sunday, August 27 from Noon to 4 pm: Wool Club
Monday, August 28 from 11:30 am to 3:30 pm: Monday UFO Open Sew


Please call the shop at (607) 748-0682 to sign up or change your registration for our classes. If you are looking for a special class or retreat, give us a call and we'll do our best to make arrangements to offer what you need.

Have a terrific summer, hope to see you soon! Rose, Candy, Carol, Carolyn, Marie, & Mary